Engage and relate with your prospects...
Instantly increase prospect knowledge on a subject they are interested in.
No pop-ups that can be blocked by other software leading to an easy to use service, always on screen.
Free to use as a tool to help you engage and reach out to your customers and for them to contact you
Answer questions instantly and gain rapport with your clients.
Share links, videos and URL's to help explain your point
Accept chat requests and pass to team members with specialist knowledge all from your desktop
Combine Engage Live with other Buzz tools to bring your customer experience to life and increase your ROI
Engager Live
Create a buzz with Engager Live
Interactions and support with your prospects can be very limited with one or two way text communications. Bring your communications to life with Engager Live, a comprehensive customer and technical support tool that allows you to talk to your website visitors and engage with prospects.
Its Free and easy to install
That is right, engager live is free and is ready to install on your website immediately. Once installed you will be ready to provide a better more efficient and interactive form of customer service. One of the great features we have built into the system allows you to see who is on your website at any given time. So if someone is surfing on a similar topic of pages you can pop up and offer some assistance, answer their questions and turn that interaction in to a sale. Marketing Automation is just the tip of the iceberg and Engager Live is one of the features fre4 to all Marketing Automation packages.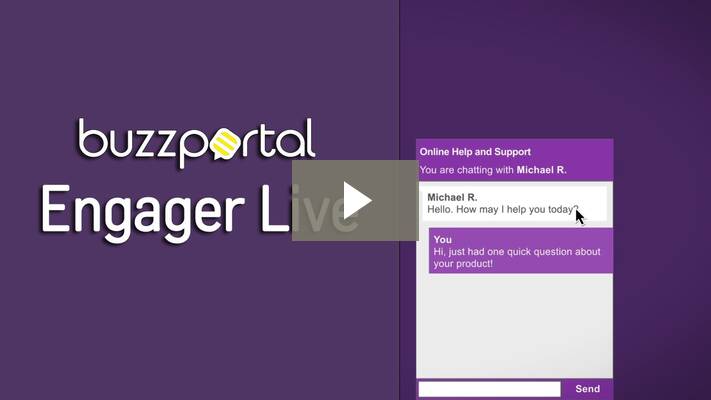 Today, is all about sharing...
Talking is great and describing your products and services can often involve passing information on to the customer. You could send an email but this is not very integrated to what you are doing. So Engager Live lets you share images, code and links to your prospects to help nurture and inform them. This improves your customer relations and increases revenue.
Track Anonymous Visitors
Engage prospects even if they don't provide you with contact information. As long as they visited a page on your site or a landing page, you can track a specific link or cookie. Then if that person comes back again, you can reengage with a pop-up message, form or something else to collect user data.