Achieve the impossible with our passionate team of experts
Automate your entire campaign from start to finish with Buzz 360 Marketing Automation
Extend your reach with targeted communications on Email, SMS, Voice, Fax and Social Media all from one portal
Enjoy a global reach with our software, available in more than 11 languages.
Buzz 360 Marketing Automation includes over 15 powerful tools all in one subscription
Design tweaking or coding is not required thanks to our gorgeous templates and simply editor
Make decisions in real-time with our reporting and advanced scheduling tools
Buzz 360 Marketing Automation
Add a new dimension to your marketing campaign with our powerful marketing automation platform.
Buzz 360 Marketing Automtation combines industry leading automated marketing with inbound and outbound communication tools to allow you to send targeted communications directly to your customers and group members on an individual basis. Send these messages automatically at times you schedule and develop automatic outcomes based specifically on their responses. 360 Marketing Automation is also capable of sending pre-created marketing messages to your customers based on unique needs that they specify through decision elements created with our software. Allow customers to select their individual preferences, such as different product types, and our Marketing Automation platform will respond with automated marketing messages tailored specifically to their desires.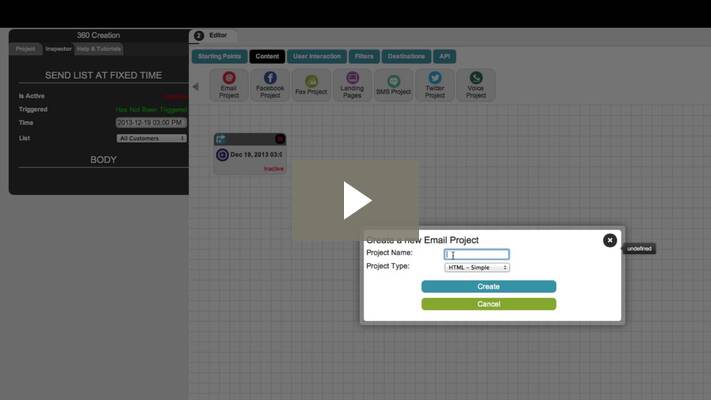 Stay one step in front of the competition and maintain that competitive advantage with marketing automation software for your business. 360 Marketing Automation uses regular and well-timed personal communications to increase conversions without requiring additional manual effort. Using our intuitive platform, Buzz 360 Automation Manager enables you to build automatic, customized marketing campaigns with our user-friendly communication tools.
Our communication solution enables you to connect with the people who matter when it matters most, regardless of the communication mode they prefer. Customer interests and stored data gathered from past engagements with your company enable you to have meaningful connections with customers and prospects, which is sure to increase your ROI.
Why do all the work yourself when you can let our software handle the tasks for you? Leave your campaigns to our marketing automation software so you can focus all of your creativity, resources, and most of all, your time, on campaign strategy. Marketing Automation makes it possible to connect with your targeted demographic in a personalised way which was never a possibility until now. We have developed Marketing Automation software which makes it easy to communicate with every customer and prospect; all you have to do is sign up and start creating a buzz.
Nurture Leads & Target Messages Automatically
Use our sophisticated filtering technology to tailor content to the customer based on their behaviors and indicated interests during prior engagement. Personalise each message and nurture your prospects from the first touch point through to the purchase and keep them coming back for more. Maintaining regular contact with your loyal customer base will guarantee increased revenues and positive word-of-mouth advertising.
Inspire higher open and response rates to you messages by using our message targeting capabilities. Our 360 Marketing Automation system uses customer selections and other expressions of interest to insure your automated messages apply specifically to each recipient.
Campaign through Multiple Channels and Maintain Engagement Use multiple forms of communication to engage with prospective and returning customers. Involving a multitude of communication methods in a single campaign - including email markeintg, fax, social media, text messages, voice messages, and the web—helps to make sure your business stays on top. And the best part is that our Automation Manager does all the delivering.
The 360 Automation Marketing Manager enables you to maintain engagement with each customer who signs up on your website. Send them time-delayed messages which you create beforehand. Begin your engagement with an immediate confirmation message, inquire about and show your commitment to customer satisfaction with a follow-up email message a week later, then stay connected and engaged after a month with a promotional message introducing related products. All delivered through our Marketing Automation tool.