Buzz 360 will benefit your organisation and increase your Customer Flow Communication
Our platform includes over 15 tools and is available in 11 different languages in over 200 countries and territories worldwide
It's time for you to create a BUZZ
Leading your customers home!
As a property developer or estate agent professional, you know the key component of property and estate marketing is nurturing and building your relationships with vendors, and prospects. Building trust is essential to building the key level of influence you have when decisions have to be made on a property purchase, lease or rental agreement.
The days or ringing around and chasing for prospects in the early stages of property marketing are well and truly over but how can you engage and build a relationship with your clients in the modern arena?
Our 360 Marketing Automation property and estate agent solution will help you effectively and efficiently communicate with "house hunting" prospects so that you can increase viewings and ultimately offers on houses, flats, apartments, commercial properties and land sales. Being in contact and offering useful news, tips and messages personlised to a prospects needs and wants not only shows your understanding of their needs but will help build the relationship over the course of the sales cycle.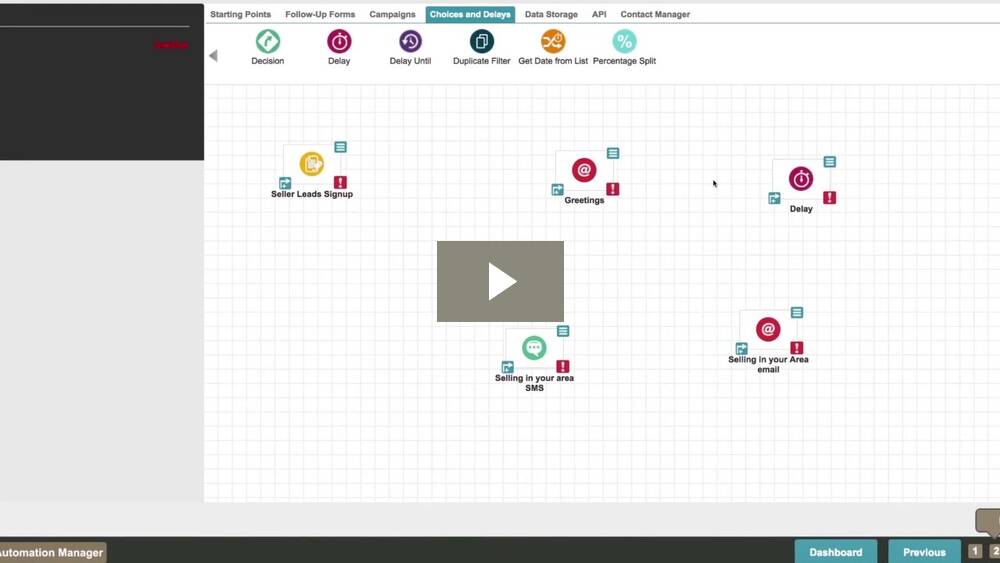 Property Newsletters
Engage and offer useful information to your existing prospects and buyers by sending targeted, personalised, attractive and reader friendly newsletters. This allows you to showcase new listings and properties of interest and combined with non sales content will be very effective. You can also include; links to community news and events, data on previous sales, local statistics and trends and tips for buyers. This will build trust, credibility and solidify your role as an expert in the market. Prospects can also opt for communication through their preferred channel from SMS to social media and much more.
Hot Prospecting
Ultimately "crunch time" for an estate agency is in the form of making sales. As a property sales professional you want to concentrate on engaging and working with your clients whilst minimising the repetition involved in traditional marketing. With our automated marketing property solution you can automate the entire process by setting up a targeted communication system. Use triggers based on the readers choices to send more personalised follow-up information. For example, Mr and Mrs Smith show an interest in a property based in Chiswick, West London by clicking links in your initial newsletter. This can automatically be followed up with a more detailed message of similar properties in the Chiswick area which may be of interest. You can set this up based on any factor of interest, such as price, location to a school etc.
Collect Prospect Information with Online Forms
Collecting important information prior to communicating with clients is essential in order to ensure you are planning and offering homes that suit their wants and needs. By integrating one of BuzzPortal's online signup forms into your company's website or social media pages you can collect information from visitors. Subscribers will automatically be added to your list of contacts, and you can use the information you collect to segment your lists and provide targeted personalised communications.
Create a successful Open house day
Garnering attention and ensuring an "open house" day is successful involves a number of tasks including ensuring you can get the right buyers to attend the property and that it is something of interest to them. Our platform allows you to do so much more than just communicate. With our Automated Event Management tool you can create an open house day project where you can market and manage the entire process from your account. Create and send invites to your contacts and then monitor and manage your RSVPs using real-time reports. This will help you plan for the big day and by collecting your returned data into unique lists you have high level usable data for any future projects.
Sign-up for your free trial today!
| | |
| --- | --- |
| | |
| Automate your entire campaign from start to finish with 360 Marketing Automation | Design tweaking or coding is not required thanks to our gorgeous templates and simple editor |
| Extend your reach with targeted communications on Email, SMS, Voice, Fax and Social Media all from one portal | Achieve the impossible with our technology and passionate team of experts |
| Enjoy a global reach with our software, available in more than 11 languages. | Make decisions in real-time with our reporting and advanced scheduling tools. |
| 360 Marketing Automation includes over 16 powerful tools all in one subscription | Use precisely what you need by taking advantage of our flexible pricing. |