Buzz 360 will benefit your organisation and increase your Customer Flow Communication
Our platform includes over 15 tools and is available in 11 different languages in over 200 countries and territories worldwide
It's time for you to create a BUZZ
The best healthcare starts with the best communication
In our fast paced information age the modern day patient is unlike any other in history and it takes a modern medical practice or hospital to keep abreast of the technology available to inform patients.
The NHS now routinely send SMS messages to remind patients of upcoming appointments or to deliver low level test results. Many primary care trusts realised that teenagers preferred texting as a mode of receiving information and so now the majority of sexual health clinics will text negative result to a teenage patient within hours of taking the test. This has proven to decrease appointment no shows and improve the efficiency in the service which we strongly agree with, not just because it uses our technology to help people but also as it allows the practice and clinic to concentrate on those in need, increasing the quality of the service they receive.
In the UK we strive towards a patient focussed service and our automated healthcare platform allows you to reach out, connect and engage with your patients in a way that was previously unheard of.
360 Marketing Automation software has been designed from the ground up to combine marketing automation with inbound and outbound communication channels all from one platform. An information management tool with premium features on all 360 price plans to support, integrate and enhance your organisations patient communications flow through Email, SMS, Facebook, Twitter, Fax and Voice Broadcasting.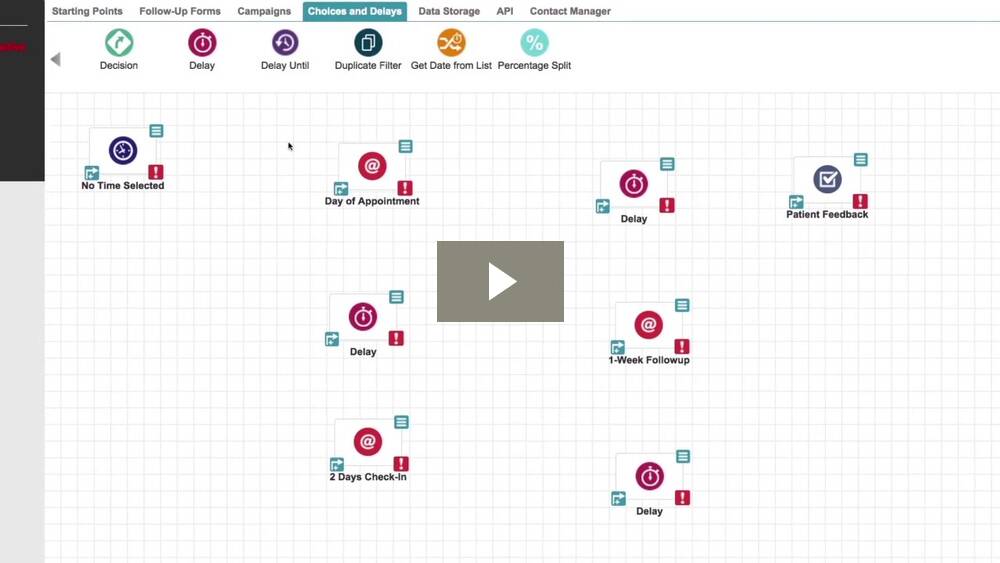 Create Personalised Communication for your Patients
Personalised messages will grow your loyalty and build your connection with each patient. Our automated healthcare solution helps you do just that. Keep patients updated on health topics of interest to them such as providing reminders and warnings on taking certain medications or tips for recovery exercises to complete before the next appointment. 360 Marketing Automation lets you accomplish this and so much more all from one online platform.
Increase attendance and reduce no shows
It is essential that a practice or clinic maximises the appointment slots to keep the service running efficiently and on time whilst also being able to radically alter if an emergency arises. With automated communications you can contact your patients in the run up to their appointment and offer a simple reply method for them to confirm attendance. With email, text, social media, voice and fax broadcasting all from one platform you're fully equipped to meet your patient's communication needs.
Sign Up forms to engage your community
Use sign up forms to reach out to new patients for public or private health clinics. All data is directed to a list of your choosing so your data is available for future use and with our powerful list and contact manager you can easily segment and manage your lists with ease. This is perfect for advertising a new group such as a mother baby health clinic or letting the community know of a drop in session in their neighbourhood.
Practice and Hospital Marketing
Private health clinics rely on engaging and providing a service to new patients and our automated healthcare solution helps you to interact and reach new prospects with multi channel communication. 360 Marketing Automation also helps you keep your social media audience updated with the latest news and content which can be planned and automated to save you time. You can also engage reactions with online surveys which connect to your contact manager so you can explore, plan and improve your service.
Who can BuzzPortal help?
Our healthcare solution is ideal for any medical healthcare practice or clinic from Chiropractic services to Dental Practices and NHS Children's outpatient clinics to private Neurologist services. BuzzPortal can help you to streamline your administration and increase your communication which will ultimately lead to a better service and happy patients. Our platform has helped millions of people connect and can help your organisation or service to be ahead of the rest and more in touch with your most important asset, your patients.
Take advantage and give our platform a try
Sign-up for your free trial today!
| | |
| --- | --- |
| | |
| Automate your entire campaign from start to finish with 360 Marketing Automation | Design tweaking or coding is not required thanks to our gorgeous templates and simple editor |
| Extend your reach with targeted communications on Email, SMS, Voice, Fax and Social Media all from one portal | Achieve the impossible with our technology and passionate team of experts |
| Enjoy a global reach with our software, available in more than 11 languages. | Make decisions in real-time with our reporting and advanced scheduling tools. |
| 360 Marketing Automation includes over 16 powerful tools all in one subscription | Use precisely what you need by taking advantage of our flexible pricing. |